On Tuesday I took a trip to the Salvation Army looking for a thin sofa table and bookshelf baubles. We rearranged our living room to accommodate the new wall mounted TV and open up some floor space in our tiny/overcrowded home. So far, I've bought new rugs, new shelving, new lamps, new record player, etc. But now that we don't have a coffee table we need some kind of sofa table to put cups on. (And heck yes, that's Pandora on my TV. Don't ya just love it?!)
But instead I found a mid-century table and 6-piece chair set just like this one.
Now compared to the living room, the dining room looks cluttered and just not feeling very pretty right now.
The price tag on the set said $200 but there were signs all over the store for 50% off all furniture on Leap Day. So I thought I'd get there when the doors opened and get it for $100 (an AMAZING deal).
Next day, I'm there standing in the rain. Doors open. Two people dash to the back of the store (which I couldn't bring myself to do). They were the only two ahead of me and wouldn't you know one of them grabbed the ticket off my dining set. I was irritated for the rest of the day.
If I HAD gotten my Heywood Wakefield dining set I would have also bought this new pendant at Lowes which is only $159 pictured below. Wouldn't it have looked divine together? The pendant looks even better in person! Perhaps it's for the best. It's money I'm not spending. Although we now have six people in our family and only four dining chairs. Once Eloise doesn't fit in a high chair one of us will be eating in the baby swing.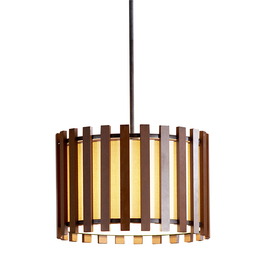 I've been thinking about pendant chandeliers lately.