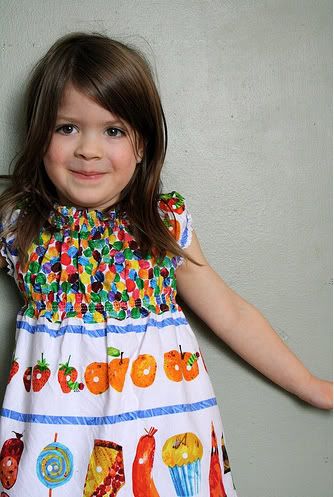 I really love clicking on the Grosgrain flickr page to see what people have posted. It's like opening a present.


Look at this ADORABLE dress! It's from that book by Eric Carle I'm sure you're all familiar with the Very Hungry Caterpillar. I didn't even know they made this fabric! I haven't seen it anywhere.


I'm very disappointed at the fabric selection where I live. Admittedly it could be worse but I'm always looking for thin soft pale fabrics that just don't exist anywhere. And when I'm buying fabric for its texture I don't like to purchase online since of course you cannot feel it.


Rarely, do I ever find exactly what I'm looking for when I go for a fabric run. It can be so frustrating!





Recently, I've been considering purchasing a serger. I don't think I am fully aware of what I am missing. I've heard it will cut and hem in one step. Is that really so? But I've also read that they are an extreme pain to thread. Do any of you have any advice on a serger?


I'm not looking for anything grand. Something within the $200 price range.I've also heard of an air jet threader. I assume that is something out of my price range but I was still curious about what it was.



I love the colors in these two photos. I especially love the pairing of fabric in the apron to the right. So bright and summery like a stylish carnival. See the whole apron here.


Please click on the photos to be taken to the author's flickr post.
The top photo is from flickr user Kunklebaby the bottom photo is from flickr user miffysworld.