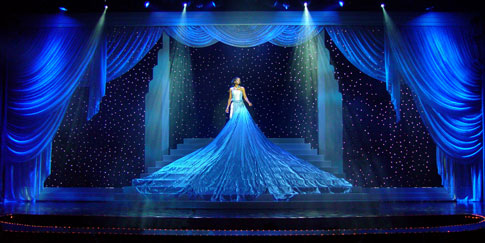 This will knock your socks off!
Fiber Optic Fabric.
Imagine making an entire dress of this stuff. You'd look like a Goddess. Wear on an evening out and make all heads turn. I wonder how stiff it is? Would also be good for a Halloween costume. The only issue is that there are some issues with cutting.
You simply have to cut the piece to your final shape (following some specific rules & limitations: the sides including the wiring can not be modified), and sew it into your product (sewing is done with standard sewing machines) A panel can't be cut into independent pieces (if you need several independent pieces, you need to order as many panels, with the right dimensions). On specific request, several panels (up to 4) can be powered by the same power supply.