This is a Sponsored post written by me on behalf of Scotts® for SocialSpark. All opinions are 100% mine.
For almost five years now we've lived with a major disappointment of a yard. Our neighbors can afford to invest in things like professional landscapers and snow removal. I won't lie. I'm jealous. Long story short, they put our yard to shame.
In other words, for the past five years now I've watched their perfectly manicured lawns look green and lush all summer long while ours turned brown, patchy and poked our bare feet with its sharp weeds. Ouch!
This year will finally be different, I'll be using the new Scotts® Snap® Spreader System. So our yard won't look so disheveled standing next to the well manicured plots. This year, I'm going to walk barefoot without worrying about having to pick burrs out of my feet. This year, the kids won't be mistaking the yard for the sandbox. It's going to be so awesome! I can hardly wait.
I'll be saying goodbye to this....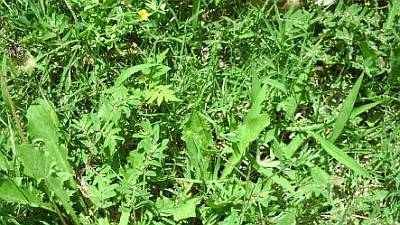 Now, I've used spreader systems before. There were downsides. Filling the spreader container, then emptying the remnants and pouring them back into the bag was a pain. And it caused me fertilize the lawn less. But the new Snap Pac connects directly to the Scotts® Snap® Spreader System. There's no cutting, no opening and no pouring from heavy bags – no spilling or waste! 
The system auto-sets the proper flow rate. No Spreader settings required! It also has a unique EdgeGuard feature that keeps product where you want it…. on the lawn! When you're done, the Snap Pac self-seals upon removal making it easy to store – No more half empty bags on the garage floor. 

Go to Scotts.com and check out their Snap-pac seasonal plans. Just type in your zip code and get recommendations about when to seed and which snap-pac bags to use.
To see what I'm describing you can take a look at the video below.