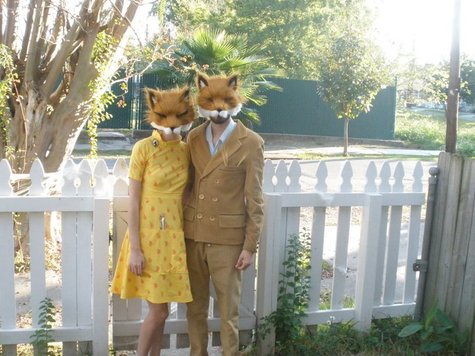 I love how this Burdastyle member made the Wes Anderson interpretation of Mr. & Mrs. Fox so true to form. In order to do this the right way follow cupcakedreammachine's direction.
For the mask she bought some cheapo plastic fox masks, and then hot glued on the two different types of fur fabric. She cut a few different shapes of fur to try to follow the shape of the mask. Then she used black wool roving for the ears and eyes, then added some 'craft whiskers. She said, plastic broom whiskers would have also worked and been less expensive.
She also made the dress and altered a corduroy jacket. She made the dress from scratch by altering Elaine May's Coffee Date Dress Pattern and for Mr. Fox, she cut down an existing vintage jacket to make it double breasted and made some quick pants from a similar corduroy. She even added wheat in his pocket and buttons are wooden with a burned in tree pattern! Bravo!